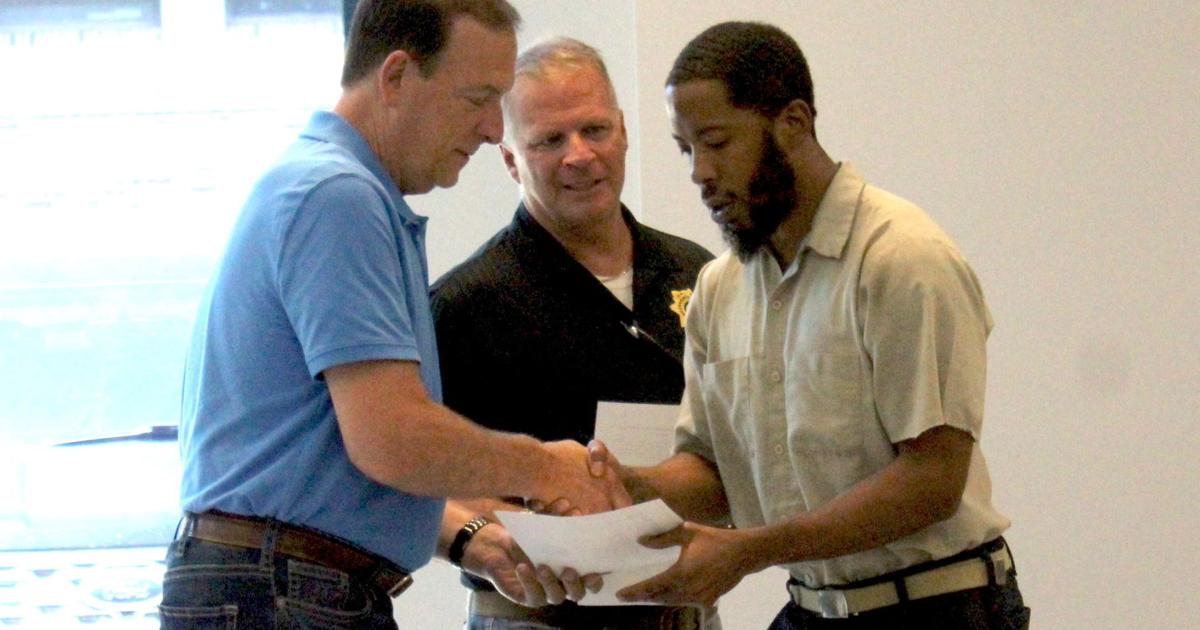 Twelve detained deckhand training graduates | New
Twelve inmates from the area graduated from the Phoenix Project's vocational training program for deckhands on Friday, opening the doors to careers for them after their incarceration.
For the first time, more than one county inmate participated in the program. In addition to McCracken County Jail, inmates from Calloway County Jail and Marshall County Jail participated, with each jail providing four inmates.
Each inmate received a certificate of completion from the Marine Way Training Center, where inmates learn skills such as welding, heating and air conditioning, electrical, and seamanship that will secure them a more meaningful future.
McCracken County Jail Lt. Arnie Puckett oversees the training program that began at the jail three years ago.
"There are several aspects to training deckhands," he said. "Part of that is security. There is fire training—because on a boat, if a fire breaks out on a boat, there is no fire department. There's expectation training, and we've built a barge mooring replicant aft. It replicates four different barge moorings that come together.
"They learn how to cast the lines, tie the lines and tie them. If not properly tied down, those countercurrent tows will come loose, and you have barges that split and go all over the place.
The deckhand training program lasts 60 hours. The West Kentucky Community and Technical College provides instructors for the programs, and inmates earn college credit for completing the program that can count toward an associate's degree.
Three companies – Marquette Transportation Company, National Maintenance and Repair and Pine Bluff Sand and Gravel – were on hand for the graduation in hopes of finding deckhands for their companies.
"The jobs are there; the industry is looking for people," Puckett said. "It's kind of a service that Jailer (David) Knight and this administration have put in place for the local economy."
As part of the deckhand program, inmates were certified in cardiopulmonary resuscitation.
• McCracken County: Carl Morton, Bryan Scrivener, Joseph Trumpis and Kevin Warner.
• Calloway County: Daniel Biven, Robert Coleman, Bradley Duke and Thelonious Nixson.
• Marshall County: Robert Grundy, Dustin Kincer, David Morris and Hunter Phillips.
Kincer, who is from Mayfield and was incarcerated in the Graves County Jail before the Dec. 10 tornado swept through the county, said the program meant a lot to him.
"Not everyone gives us a second chance – not just to improve you, but to improve your future, career-wise.
"There's a lot of programs floating around around anger management and addiction recovery and moral recognition therapy and things like that, but having a career that's someone-oriented means a lot to me."
Kincer said he wanted to start a career as a deckhand after working in the automotive industry for 10 years.
"I've sold cars from Florida, Alabama, Ohio, through Kentucky," he said. "I've run a few dealerships in South Florida. I burned out on that, so I'm definitely considering doing it.
"From what I understand, it's a well-paying job with great benefits and opportunities for advancement."